La Tundra Issue 29 - Digital Magazine
00029b -DIGITAL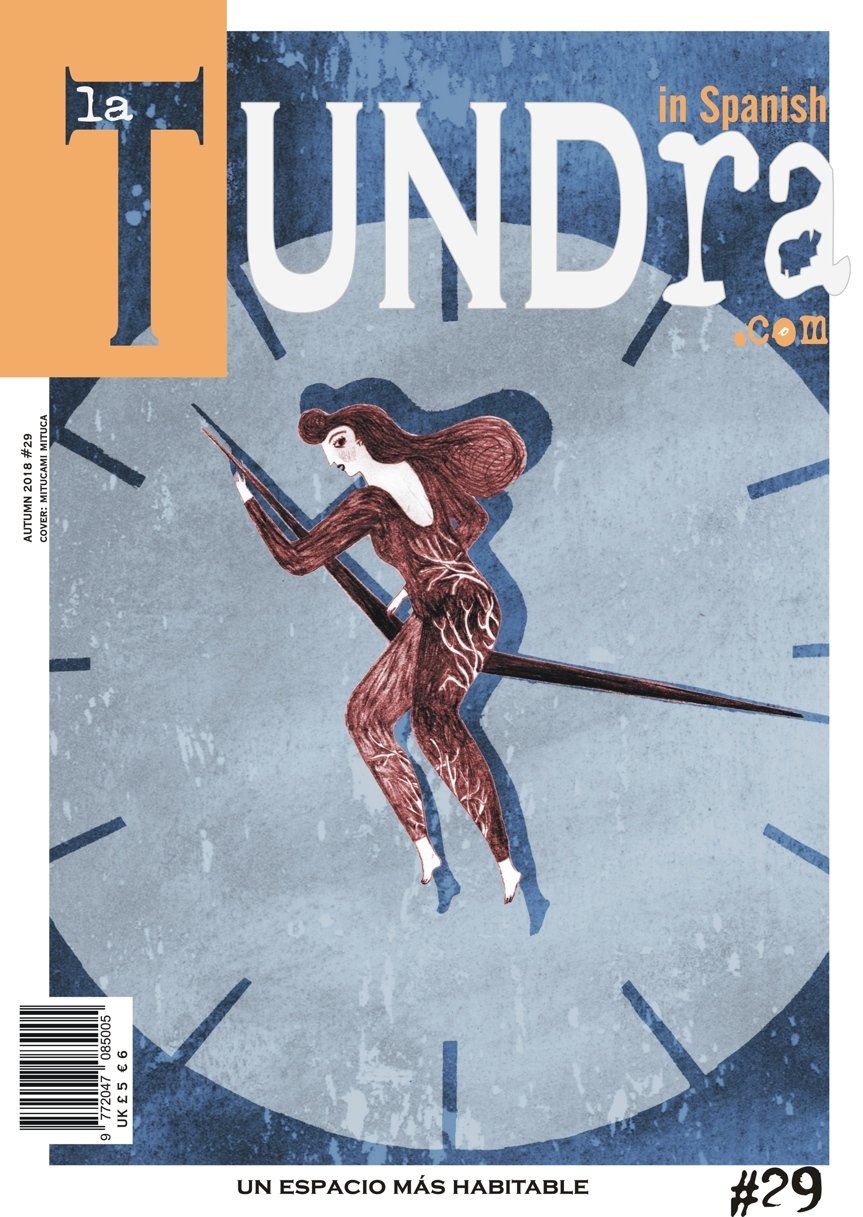 La Tundra Magazine – Issue 29 DIGITAL MAGAZINE ONLY – UK's Magazine in Spanish since 2011
Autumn 2018 #29 - Printed Copy - Cover Mitucami Mituca
Size A5. Cover 350 g. 62 pages 120 g. Uncoated paper.
Contents of La Tundra's Autumn Issue:
Time. What do we do with our time? Procrastination.
Interviews: Soledad Zárate, puppeteer of the Puppet Barge Theatre.
José Naranja, Spanish illustrator and creator of 'El manuscrito naranja', a serie of wonderful hand drawn books.
Frida Escobedo and the design of Serpentine Galleries Pavillion.
Books: 'El futuro es femenino' by Sara Cano (The future is feminine), with illustration by Naranjalidad.
'The mother of all the questions' by Rebecca Solnit.
Music: Adictos al Bidet, El Golpe Ska and Monsieur Periné.
Interview to Jamie Murray, drummer of Beat Replacement. Talking about John Coltrane, music scene in London and Brexit.
Featured artist in her embroidery studio: Cruz María Vallespir.
Planet conscious: What are we doing with our plastics and 'Proyecto Guirre', interview to Julio Roldán González about the preservation of guirres in Canary Islands.
Journey to Euskadi.
More: Psychology. Opinion. Agenda.
With words and Illustrations by Alexis Degrik, Marisol Bravo, Vivian Pantoja, Naranjalidad, Lapatry Cruz, Romina Lardies, Sandra Wolfenson, Antonio Di Pierro, Totchli Usagi, Silvia Demetilla, Nieves Guijarro Briones, Mercedes Cicchero, Paz Regidor, Concep Diaz Perez, Gabi Carpenter, Flora Marquez, Jose de Maria Romero Barea, Sandra Conte, Julio Zeballos Gutierrez, Virginia Gil Rodriguez, Juani Velilla, Carolina Casado Parras, Soledad Bustos, Adelaida Monguillot, Ana Rivadulla Crespo and Luis Abbou.